Battle of the Boyne Celebrations - 12/07/10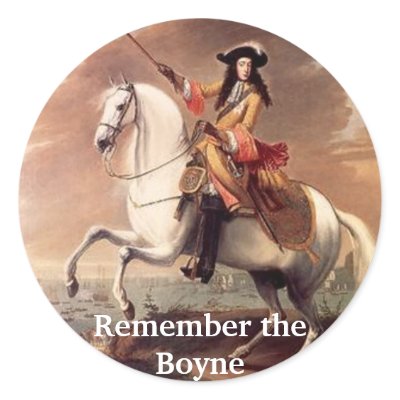 Once again the 12th parade was upon us. How quickly it seems to fly in.

A great start to the day was the great weather which helped kick start such a great day. The build up to the parade was as usual tainted with the dissedent threat which continually lingers in the backround of our society. As usual the headlines were taken from the bands by attacks from these people on the parade making its way home to Ballysillan. But lets not let it put a shadow over what was a class 12th held by the Protestant people loyal to the Crown, long may it continue.

Below are a selection of photographs of the band in action in the outward route.




From early morning Orangemen and bands were on the move, falling into position as various districts paraded off from Carlisle Circus to the bead of the drum. Ten thousdand bands and orangemen watched by an estimated 50 thousdan on lookers enjoyaing a good day out. Visitors from all over the world flock to Belfast for this celebration. It is the single biggest parade anywhere in the world so a few people hell bent on causing trouble in Ardoyne should be allowed to disrupt our way of life.



Below are a selection of photographs of the band in action on the return route.




This year i managed to see some of the parade. Shankill Protestant Boys looked impressive in both size and sporting a new uniform. Followed up by the small Pride of the Shore also going well. Plenty of Scottish bands on show which is great to see. Townshead, Bridgeton Loyalists, Govan Protestant Boys, Larkhall Purple Heroes all going well. It was also good to see the big turnout of Accordian bands. Sister King and Thornlie Bank both in good tune. Loads of others on show including the Shankill Star, Pollock Young Loyalists, Pride of the Raven. To many to mention but what a show blessed by great weather. Men, Women, young and old all turning out to encourage the never ending parade what means the world to us. Sore feet, sore heads, blisters you name it, it was moaned about but by the next day its forgot about and the clock starts for next years parade. I have been asked often "how is Loyalty measured"? And my answer, "by the efforts it takes to retain it. Never is that more so on the 12th of July.

Here is clips of the band in action:
CLIP 1 - CLIP 2 - CLIP 3 - CLIP 4 - CLIP 5 - CLIP 6 - CLIP 7 - CLIP 8 - CLIP 9 - CLIP 10 - CLIP 11 - CLIP 13 - CLIP 14 - CLIP 15

Our own band today looked forward to the parade after a very good 1st of July parade, this was to be better. We paraded with 8 of a colour party, 3 drum majors, 18 drummers, 4 bass drummers, 36 flautists and 4 marshalls. A great turnout for the biggest day of the year. We were in full uniform going which soon gave way to shirts on the return route. As usual the crowds give the bandsmen a lift when passing and they certainly lifted us. We were on fine form all throughout the day. Forgive me for blowing my own trumpet but i have to praise my own band for sheer effort and great behaviour on the day. I am sure the new members whom joined us this season enjoyed themselves on their first 12th which helped us have one of the best days ever.Friendship and fellowship carried us throughout the day and the welcome home cannot be matched anywhere. The highlight of the day for me nearly finishing was the drummers singing Dolly Gray-Tipperary and finishing of playing Auld Orange Flute.

Bringing an end to one of the best 12ths our band has ever had. Well done and thanks.

John Keenan
East Belfast Protestant Boys Flute Band Chairman



BACK TO PARADE INDEX